Brian Ahern assisting the members of Danvers Rail Trail committee put together the covered picnic table that Danvers Rotary funded
Rotoracle - November 18, 2019
​
Welcome: Vice President, Suzanne Contreas opened todays meeting with the pledge allegiance and a number of updates. "Keep selling raffle tickets. " We had a nice group of people at-tend todays meeting. Great table conversations and plenty of laughter.

Invocation: Brian Ahern

Guest: Sheriff Brad has been doing a great job introducing guest to our Rotary Club each week.
Today Mike Loring from Goodnow In-surance joined us today.
Guest Rotarians: No. visitors today
Attendance: John S, Tom S, Neal W, Brad H, Annelie S, Becky K, Shelley S, ,Barbara D, Matt S, Suzanne C, Brian A, Barry K, Teddy S, Gary N, Dan D, and Christina F.
Lunch: coffee, iced water, mixed salad, roasted potatoes, roast-ed vegetables, cranberry sauce and cheesecake for desert.
​
Click here for the full Rotoracle!
Club Meetings
We meet Mondays at 12:15 PM
Danversport
161 Elliott St.
Danvers, MA 01923
We Are Danvers Mobile App!
Stay on top of what's happening at the Open Market & Danvers Concert Series by downloading the We Are Danvers mobile app today!
CLICK HERE TO DOWNLOAD!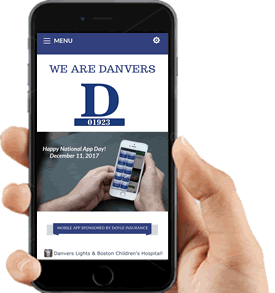 Rotary: Making A Difference
Thank You To Our Sponsors!