Brian Ahern assisting the members of Danvers Rail Trail committee put together the covered picnic table that Danvers Rotary funded
Rotoracle - December 2, 2019
Welcome: President, Jacki Shambaugh welcomed everyone back to- day and wished everyone had a good Thanksgiving. Couple reminders— only a few ads left in the Rotoracle. Be sure to pass in your sold tickets for the raffle to Matt. You can also spread the word by promoting tickets sales to friends/family by promoting the Rotary website—you can now buy online!
​
NO MEETING NEXT MONDAY!!!! But we will meet on Tuesday and join Kiwanis and Lyons Club at DPYC for a Holiday Celebration at noon
​
Invocation: Brian Ahern Guest: No Guests Guest Rotarians: No. visitors today Attendance: John S, Tom S, Neal W, Brad H, Shelley S, Barbara D, Matt S, Suzanne C, Brian A, Barry K, Gary N,, Marybeth O, Ralph A,, Larry D, Jacki S, Gary N Lunch: coffee, mixed salad, chicken wedding soup, grilled chicken, mixed vegetables, assorted deserts.
​
Click here for the full Rotoracle!
We Are Danvers Mobile App!
Stay on top of what's happening at the Open Market & Danvers Concert Series by downloading the We Are Danvers mobile app today!
CLICK HERE TO DOWNLOAD!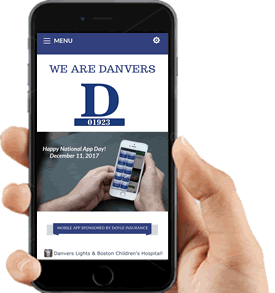 Club Meetings
We meet Mondays at 12:15 PM
Danversport
161 Elliott St.
Danvers, MA 01923
Rotary: Making A Difference
Thank You To Our Sponsors!